someone asked a great question on my last instagram q&a if i ever talk about BDSM and race. my short answer was that yes, i do! i have criticized a lot of old guard BDSM practices as borrowing from chattel slavery and it's my personal belief that people who are not descendants of slaves have no business engaging with much of what we refer to as M/s. there's a ton more to say on this subject, so i put together some additional thoughts and expanded to beyond just race to encompass what we should be thinking about when we're fucking with power dynamics in BDSM. my hopeful goal is to provide some food for thought and conversation points for anyone living this lifestyle. the main idea here is that there are limitations to how much power we can actually choose to engage with. what i mean by this is that structural oppression/privilege is always present. when we invite power exchange into our relationships (someone's leading and someone's following) to create a container for our fantasies, we don't just become new people. all of our worldly privileges follow us into the scene, 24/7 dynamic, or dungeon. in my zine on polyamory i talk about what i call "mixed privilege relationships" (ie all relationships in some way) and this is just as important, if not more, because in BDSM we fuck with power exchange deliberately whereas in normal romantic relationships we might never go there.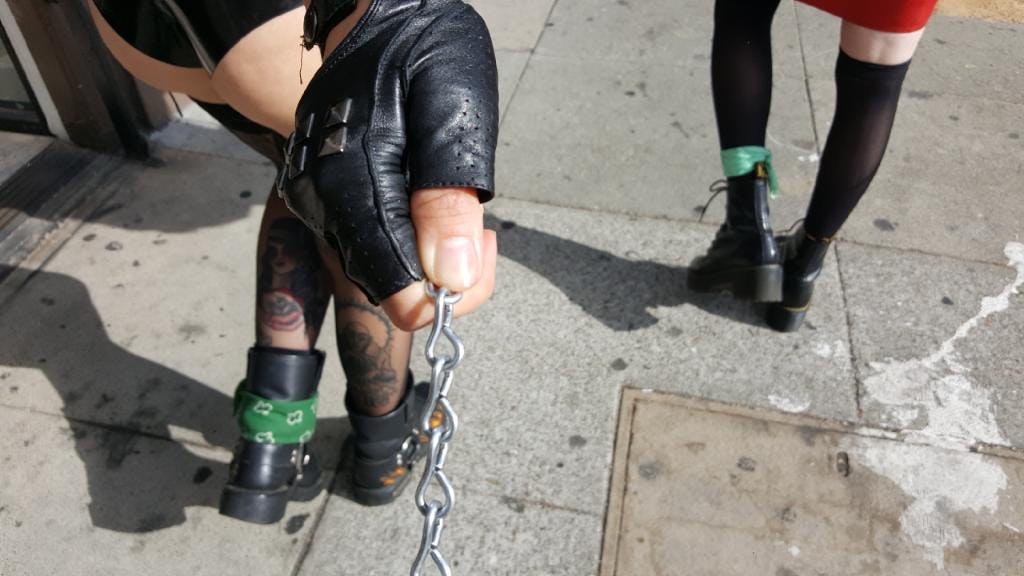 photo by janie blade
this is not a guide for "how not to be an asshole" but also it kind of is. the vulnerability we show in BDSM exchanges is ripe for beautiful and amazing interactions that can heal us in many ways. however, healing only happens when we feel safe. as we know, complete safety is impossible and the language around "safer" works to acknowledge that truth. i want to talk about how Doms/tops in any position of power and privilege should be paying attention to the myriad ways in which their privilege can be harmful in kink interactions and power exchange relationships. how can we as tops and Dominants make ourselves safer for others- beyond the normal risk aware framework- when we're fucking with power?
i think it's important to ground this piece about privilege in naming my own privilege. i am writing from the experience of a lesbian, cis, white woman, a top and Dominant, currently middle class, thin, able bodied, and neurotypical. this means i engage with bottoms and subs who more often than not experience more oppression than i do in the world at large. i am not perfect by any means, but i take it very seriously to try my best to be responsible for and accountable to my power. everything i know and have learned is due to my own research and most importantly my partners who have taken the time to teach me (which, by the way, is never their responsibility)!
race, class, disability, mental health, and gender comprise some of the major life experiences that we bring with us into BDSM. when tops /Dominants are the ones holding more privilege than the bottoms/submissives it's really important to discuss what it means and how it feels to engage in intentional and unintentional power exchange, especially if the relationship is more serious D/s (it might not be super appropriate to have a long processing session about structural privilege before doing pickup play). think about a working class service submissive who is owned by someone with access to significantly more wealth. erotic servitude is hot, but only when it's heavily negotiated. it's never hot to be a Dom/top with completely unchecked privilege. in my opinion there is only one rule for engaging with power dynamics and that is to do it as responsibly as possible.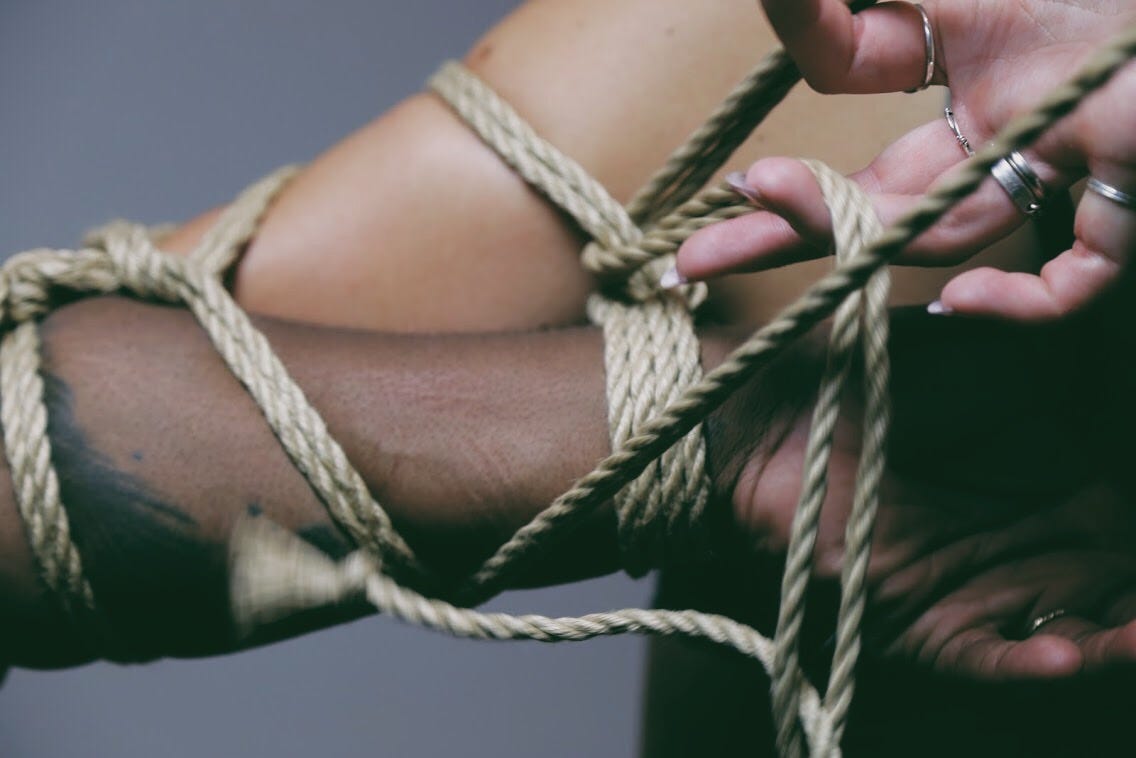 photo by paula andrea
race is perhaps the biggest issue to discuss due to the nature of a lot of BDSM as consensual sexual violence. due to the legacy of white supremacy enacted as actual sexual violence towards people of color, specifically black and native american people, this carries a heavy weight. white people, as the oppressors, hold the power and privilege. even though we aren't explicitly doing race play, when we enter a BDSM situation with a white person as top/Dom and a person of color as bottom/sub, our experiences from the outside world don't just disappear.
there are specific kink acts that can be viewed as more racialized than others, and bottoms may have varying levels of comfort/strict boundaries in scenes with white tops where whipping, house work, rope, or other service is involved. i once suggested neck rope to my partner for us to use in a promo photo for a performance we were doing. she quickly reminded me of the racial implications of a black woman with a rope around her neck and i had an extreme "duh" moment.
so what can we do about it? in D/s relationships these power dynamics need to be talked about again and again. white tops (/all white people)- i hope this isn't new information but you have a responsibility to educate yourself about race and do the work to unlearn racism. this job is never done and you should be doing it for the rest of your life. i've heard some horror stories about white Doms in other community positions of power in the community dismissing call-ins about aligning with white supremacy over hurt feelings. this is an abuse of power. we're all navigating a messy world but this form of violence known as white fragility is never the answer. when someone comes to you with the gift of telling you how you can do better, listen, accept it, thank them, and do better next time. this is not meant to be a guideline on how to do this work, as i don't think i'm an expert on that. please google - there are a myriad of resources available on anti-racism for white people specifically!
another axis of power/oppression that follows us into the play room is class. with all the gear, toys, outfits, party tickets, cons, etc, this can be a really expensive lifestyle! i've seen subs licking boots that cost more than they make in a month. no shade to anyone, especially the working class subs who get off on licking fancy boots. but i wonder if anyone involved is talking about the class implications of this particular scene? am i killing your boner? sorry not sorry!
the responsible way to engage in D/s as a Dominant with more financial resources than your sub is to obviously become a sugar daddy. i'm only half joking! there's a lot of taboo in our culture around discussing class and how it brings access and power and opens doors. money is literally power. because of this, there are a lot of people who believe subs should break the bank giving gifts to their Doms. i'm definitely not one of those people, especially since my relationships are forged in queer leather community where most people don't have money and are dealing with overlapping instances of structural oppression that keep them poor. leather relationships are meant to uplift and empower, and in my opinion capitalism muddies that vision.
as a top/Dom with class privilege, think about what it could cost for a sub with less financial means to live this lifestyle and engage in these relationships. then, think about how you can help make it easier for them. if your sub insists on giving you gifts, as the Dom you can set regulations for how much they're allowed to spend on you in a month. additionally, it's really easy to pay for the party tickets, dinner, buy the toys you want to use, and gift them gear they couldn't otherwise afford.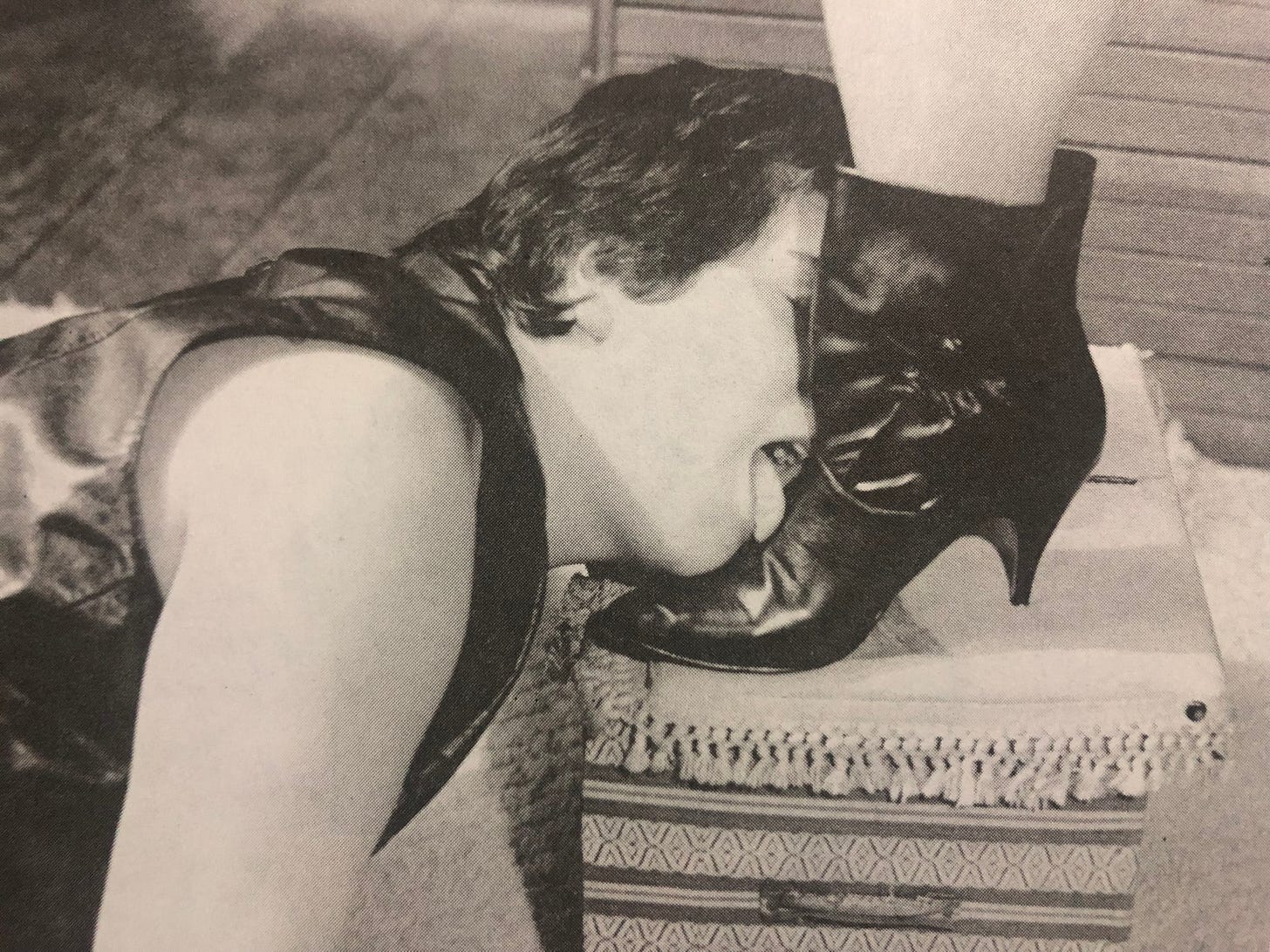 photo of a photo from on our backs
gender is a bit more obvious for most people - Doms who are men and subs who are women are recreating the patriarchy! well, no, and i'm not going there. the power angle i want to discuss when it comes to gender for queer community is cis Doms and trans subs. cis people in general have a horrible track record for being "safer" for trans people to date, when you throw in sex and power dynamics it is even worse. like i said above about race, it's the responsibility of the person with privilege to become educated as much as possible without making trans people do that work. luckily we have communication on our side as we negotiate in BDSM about bodies and limits anyway (hopefully, right?) the best thing to do is to always talk about everything, which is what you should already be doing! there is no catch all advice or trick because every person's body and interests are completely different. always have conversations about where and how it's ok to touch, hit, names, etc. something that is also helpful is to ask bottoms how they want to feel in a scene or dynamic. then you can work backwards and discover ways to affirm that. for example- "i want to feel like your good little girl" could imply lots of praise and gender affirmation, bows and glitter.
the BDSM/kink scene as a whole has a complicated history of fetishizing transgender people. i'm sure there's a whole other piece on that by someone much more qualified, but i want to name that explicitly so that cis people can be mindful of not recreating these scripts. there are a lot of trans people in the scene who only play with other trans people and that's absolutely valid! i have personally witnessed a trans sub get misgendered by their Domme - so yes t4t!
the number one thing that cis tops need to internalize is to treat your play partners like humans and not experiments, unless given explicit consent. for example there are lots of activities that cis Doms might think would be okay transferring from body part to body part, but that have gendered implications that are wildly out of line. sissification is a really popular practice that has a completely different context for cis men than it does for trans people. consider that fetishes enacted on cis bottoms don't just transfer to trans bottoms without explicit negotiation.
i cannot stress enough that when we're playing with power in BDSM we need to be dissecting and talking about the ways our privilege intersects with our scene identities and interpersonal relationships. going deep into living out fantasies can be more magical than your wildest dreams, but only if we mitigate harm as much as possible. we must always be mindful of how our requests for scenes or seemingly harmful play dynamics may be internalized by bottoms who experience racism, transphobia, classism, or any kind of daily microaggression. remember that making mistakes is inevitable, as we all have different lived experiences inside and outside of the play space. as Dominants/tops we should take the position of leader in these dynamics very seriously and use both the power we have in the world at large, and the power given to us by our submissives/bottoms to create positive and healthy spaces for those who entrust us with their hearts, bodies, and sometimes their lives.